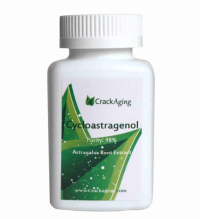 Click to Enlarge
Email
sales@crackaging.com
for testing report from
ChromaDex
Our products are certified by Intertek, an independent 3rd-party lab in the US. Email us to get a testing report. The email address is
sales@crackaging.com
Also available:
98% Purity Guanranteed or Money Back!

If for any reason you are unsatisfied with a Crackaging product, simply return the unused portion to us within 30 days for a full refund. No questions asked.
Overview
Cycloastragenol is a saponin derived from Astralagus root, a plant which has been used in traditional Chinese and Eastern medicine for over 2,000 years for its apparent ability to slow the aging process. It is similar in structure to the Astragaloside IV molecule but smaller and more bioavailable.
Recommended Dosage
We recommend taking 10-50mg per day for no longer than one year. Cycloastragenol is a new supplement and little is known about its long term effects.
Purity 98%

The purity of our current batch of Cycloastragenol is roughly 98%, almost five times higher than anything else available retail in the world. Our Cycloastragenol is independently tested for safety and purity (HPLC) by a US lab. The purity of our current batch is 98%. Please send email to sales@crackaging.com to get a testing report.
Testimonials
"I have been taking the product for 6 months and notice some changes. I seem to have a better resistance to infections or viruses than ever. The main change is about my hair. I have been nearly bald for over 10 years. The light patina of grey hairs on my bald scalp seems to get a bit thicker with a few black hairs as well."
-Andrew Miller, USA
More live discussion about Cycloastragenol and Astragaloside iv at:
longecity.org
Normal human cells have a certain number of times that they can divide. Once this limit is reached, cells are described as cellular senescent or aging cells. Telomere shortening is a main mechanism for cellular aging. Stimulating telomerase and increasing telomere length are the most promising ways of increasing life expectancy naturally by now. Animal and in vivo tests suggest that Cycloastragenol is one of the very few substances - and the most powerful - that can noticeably increase such activity. Researchers find the activated T cells telomerase activity is upregulated, resulting in increased telomere length. There are many anti-aging supplements that claim to delay the onset of cellular aging while the study from UCLA proves Cycloastragenol can certainly deliver the expected result: increase the telomere length.
Both Cycloastragenol and Astragaloside IV are found in Astragalus extractpossessing telomerase-activating properties. Cycloastragenol is the common alglycone of the Astragaloside and it is also the smallest molecule in the family of telomerase-activating astragalosides such as AstragalosideIV. Cycloastragenol is extracted from Astragaloside IV at a ratio of 1:6 so it's much more expensive and more viable as the besttelomerase activator.
You can buy Cycloastragenol at purity 98% at Crackaging.com. Our Cycloastragenol price is very competitive especially considering the high purity. Try the best telomerase activator today!